DETERMINE THE SIZE OF YOUR FOOT:
If you do not know what size shoes to buy, you can follow these steps:
1. Draw a straight line longer than your foot on a piece of paper.
2. Place the paper on a flat surface. Stand on the line with your heel and longest toe centered on the line. If you are measuring a child's foot, it may be easier to hold the paper against the foot.
3. Draw a line at the tip of your longest toe and the back of your heel.
4. Repeat steps 1-3 for your other foot.
5. Measure the distance between the two dashes. Take the longest distance and use the conversion chart to determine the correct shoe size.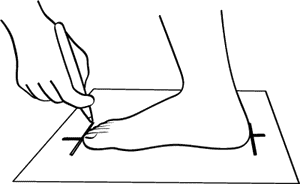 SIZE CHART
UK
EU
US
man
US
lady
Mondopoint /
in mm
Japan (cm)
2
34,5
3
3,5
220
22,0
2,5
35
3,5
4
225
22,5
3
35,5
4
4,5
227,5
22,8
3,5
36
4,5
5
230
23,0
4
37
5
5,5
235
23,5
4,5
37,5
5,5
6
240
24,0
5
38
6
6,5
245
24,5
5,5
39
6,5
7
250
25,0
6
39,5
7
7,5
252,5
25,3
6,5
40
7,5
8
255
25,5
7
41
8
8,5
260
26,0
7,5
41,5
8,5
9
265
26,5
8
42
9
9,5
270
27,0
8,5
42,5
9,5
10
275
27,5
9
43
10
10,5
280
28,0
9,5
44
10,5
11
282,5
28,3
UK
EU
US
man
US
lady
Mondopoint /
in mm
Japan (cm)
10
44,5
11
11,5
285
28,5
10,5
45
11,5
290
29,0
11
46
12
295
29,5
11,5
46,5
12,5
300
30,0
12
47
13
305
30,5
12,5
48
13,5
307,5
30,8
13
48,5
14
310
31,0
13,5
49
14,5
315
31,5
14
49,5
15
320
32,0
14,5
50,5
15,5
325
32,5
15
51
16
330
33,0
15,5
51,5
16,5
335
33,5
16
52
17
337,5
33,8
16,5
52,5
17,5
340
34,0
17
53
18
345
34,5